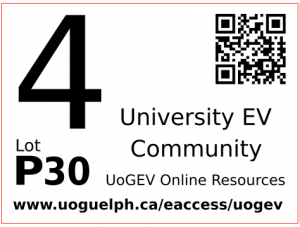 The EV chargers are all labelled with ID plaques. The plaques identify each charger with a Charger Number, Parking Lot Number, and QR code(& URL) to the main campus 
EV Charger support web site
. 
The EV charger support site contains links to online forms, including:
     - UoG EV listserv sign up form.
     - EV charger issues reporting form.
     - and additional links and trouble shooting guides for EV users.
Please feel free to view the EV Charger Landing page at the following URL.