Restricted Overnight Parking
To facilitate snow removal
The following parking restrictions will apply between December 1 and March 31!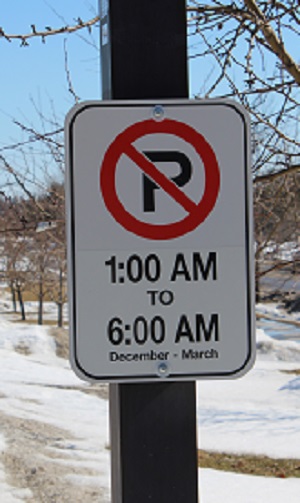 Restricted Overnight Parking

Times
Location
(a)    NO PARKING
        01:00 – 06:00
P10, 15, 23, 24, 26, 30 (excluding horse-trailer section designated for horse-trailers only), East Ring Road and McGilvray Street.

(b)    NO PARKING
        03:00 – 06:00

In any other University parking lot.
 (c)    Exceptions to overnight restrictions
P13, 17, 18, 19 (excluding the southwest corner, designated no parking area Dec 1 - Mar 31 from 1am - 6am), P1 and the metered area only of P64 and P25.
(d)    Staff working after hours during overnight restrictions
Extended to University personnel regularly working on campus during these restricted hours. A special permit may be obtained from the Office of Parking Services & Transportation Planning if endorsed by the chair or head of department.
 (e)    Parking Allowed during overnight restrictions
P12 (near Twin Rinks) P5, P44 and P31, until 3:00 am (no parking from 03:00 - 06:00).